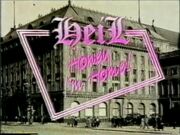 Heil Honey I'm Home! was a controversial British television sitcom, produced in 1990, and canceled after one episode aired.
The show centred on fictionalised versions of Adolf Hitler and Eva Braun, who live together in suburban bliss, until they are faced with new neighbours, Arny and Rosa Goldenstein, who are Jewish. The show's plot is centered on Hitler's inability to get along with his neighbours. A caption at the beginning of the episode presented the series as a 'lost' sitcom from the 50s, recently re-discovered. The show spoofed elements of 1950s and 1960s American sitcoms such as Leave It to Beaver and I Love Lucy, including the corny title, light (even vacuous) plots and dialogue, and unwarranted applause whenever a character appeared on screen.
The plot of episode 1 involved Adolf telling Eva of the impending arrival of Neville Chamberlain, and begging her not to tell the Goldensteins. Of course, Eva lets it slip to Rosa that Chamberlain (the most important man in Europe!) is coming round and Rosa tells Arny. They then crash the dinner party the Hitlers have prepared for Chamberlain.
The programme was written by Geoff Atkinson and commissioned by satellite television channel Galaxy, part of British Satellite Broadcasting (which later became part of BSkyB). It was shown at 9.30pm on a Monday night, after an episode of Dad's Army. During the credits of Dad's Army, Galaxy's announcer said 'And unless Arthur Lowe defeats him, it's the man himself in a few moments in Heil Honey, I'm Home!, as the Galaxy Comedy Weekend continues.'
The programme proved controversial when first aired, as it was seen by many as being in very poor taste. It was accused of crassly trivialising Nazism, although others have defended it as being in the same tradition of Third Reich parodies such as 'Allo 'Allo! and Hogan's Heroes, or along similar lines to the portrayal of Hitler as a domestic fool in The Producers. They also point out the crassness was intentional, and part of the parody anyway.
Only one episode (the pilot) was ever screened, although eight episodes were planned and a number were recorded. The filming of the series was cancelled immediately by Sky (BSkyB) on its acquisition of British Satellite Broadcasting. This was probably due in part to the ire that accompanied the first episode. Neither the pilot or other episodes have ever been aired since. The show has since become renowned as one of the most controversial programmes ever to have been screened in the UK; it listed at #61 on Channel 4's The 100 Greatest TV Moments from Hell.
Cast
Neil McCaul as Adolf Hitler
Denica Fairman as Eva Braun (replaced by Maria Friedman in unaired episodes)
Gareth Marks as Arny Goldenstein
Caroline Gruber as Rosa Goldenstein
Laura Brattan as Ruth Patrick Cargill as Neville Chamberlain
Ad blocker interference detected!
Wikia is a free-to-use site that makes money from advertising. We have a modified experience for viewers using ad blockers

Wikia is not accessible if you've made further modifications. Remove the custom ad blocker rule(s) and the page will load as expected.