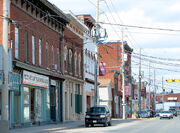 Tweed is a municipality and a village located in central-eastern Ontario, Canada, in Hastings County.
One of Tweed's former claims to fame was that it had the smallest jailhouse in the province. Although its jail (4.9 metres x 6.1 metres) is indeed one of the smallest, other towns in the province have come forward with similar or smaller dimension jails. These include: Berens River, Providence Bay, Ontario, Port Dalhousie, Ontario, Rodney, Ontario, Coboconk and Creemore, Ontario. Today, the Tweed jail has been converted into a community police station. In 1996 the town made news when it applied for a CFL team, in an attempt to become the Green Bay of Canada. Had the attempt been successful, the team would have been known as the Tweed Muskies. In 1989 the Ottawa branch of the Elvis Sighting Society declared Elvis was alive and well and living in Tweed. For several years after that an Elvis is Alive festival was held in July. More recently Tweed and Elvis made the headlines when a reporter from the Toronto Sun came to investigate if there was truth to the rumours. The only evidence that remains now that Elvis may have ever been in the community is a very short road now called Elvis Lane. Oddly enough not far from the proposed site of the Tweed Muskies stadium.
Ad blocker interference detected!
Wikia is a free-to-use site that makes money from advertising. We have a modified experience for viewers using ad blockers

Wikia is not accessible if you've made further modifications. Remove the custom ad blocker rule(s) and the page will load as expected.